When we became parents, the husband and I wrote-off the idea of having a sit-down meal at a restaurant with our infant. We used to be
that
couple who tsk-ed at people who brought their crying babies to public places like movie theatres, restaurants and airplanes
I know, we're horrible people
. While I will definitely hold off on taking E to a movie theatre
till she's at least 3
, I've come to realise that the world does not owe anyone a baby-free plane ride.
Parents shouldn't have to forego eating out just because they have a baby. However, the husband and I have decided to visit only those restaurants that will be okay with a baby who could, at any time, turn into a mewling, puking monster. So while I probably won't get to eat at Edo at the ITC Gardenia for a while, I'd like to find out where I can take my baby and grab a quick, hot meal.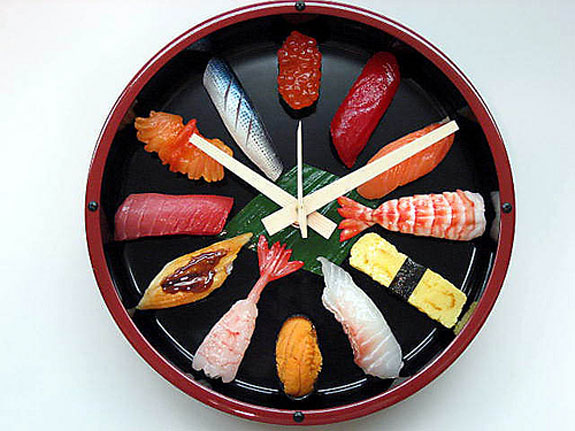 When will my baby be old enough for sushi?
Now that E sits up in her booster seat and is
experimenting with BLW
, she is becoming increasingly portable again
though definitely not as portable as she was as a newborn
. This weekend, we graced the Punjab Grill in Koramangala with our familial presence. Overpriced and so not worth the money, the food is reasonably palatable and the kababs are nice.
There. That's my review.
The Deets on Punjab Grill
There was no one to greet us as soon as we arrived. When I pay upwards of INR 2000 a meal, I expect a greeter-and-seater. Instead, we looked around till we caught a server's eye who then directed us to a table that would seat two. Clearly unfamiliar with babies, he fetched us a wooden high chair for E to sit on. Said high chair had no harness to secure baby. Even if E was sitting up unassisted, she could have easily wriggled or slid through. My guess is that the high chair will probably fit only a
well-behaved
toddler.
In any event, we asked to be seated at a table for four people so we could strap E to her
Fisher-Price booster seat
. As E played, we waited for our order of
Shikanji
yum
and
Aam Panna
synthetic
along with a non-veg kabab platter as starters
super yum
. For our mains, we ordered Paneer Makhani
too much gravy and not enough paneer
and Naans
standard fare - no different from your friendly neighbourhood curry shop
.
As we had started BLW with E, we gave her a little strip of Naan to play with and that's exactly what she did. It did not go into her mouth and the one time it did accidentally make its way there, she promptly spat it back out. Still, it amused her and she tried to shred it and when that bored her, she played hide-n-seek with it using a napkin. Bored with the naan, she used the same napkin to play hide-n-seek with her father
she loves the game and my book says that it's perfect to teach them that things go on existing even if not apparently visible (object permanence)
.
Loud as a lion so your baby won't need to be quiet.
With Punjabi pop music playing loudly, and its shrill Sunday patrons, The Punjab Grill in Koramangala will effortlessly absorb a baby's giggles and shrieks. So we didn't get any stink-eye stares or looks of seriously-a-baby-at-a-restaurant-? Which was a relief because, karmically, it's what we deserve.
I've been using E as an excuse to get out of social obligations mostly because I tend to have what my husband calls "reclusive, hermit-like tendencies,"
I call it my party-of-3-plus-1-dog awesomeness
. Eating at a restaurant on Sundays seems like a harmless enough way to re-ease this new mother into society.
Check back here for more reviews of family-friendly restaurants! Have any suggestions? Hit me up in the comments below.