As a parent, you want only the best for your baby. The problem is that there are hundreds of different views on how to raise a child. In the UK, there are more books on parenting published each year than there are babies born. So how do you decide on how to raise your baby?
'Bringing Up Baby' is a documentary that aired on British Channel 4 in 2007. It followed the lives of six families following three different approaches to parenting guided by three mentors considered experts in their respective method of childcare.
The families chose from the
Truby King
method, developed in the 1950s, which prescribes a strict routine for the baby right from day one; the more relaxed
Dr. Spock method
from the 1960s that asks parents to trust their instincts; and the precursor to the modern attachment parenting method, the
Continuum Concept
from the 1970s.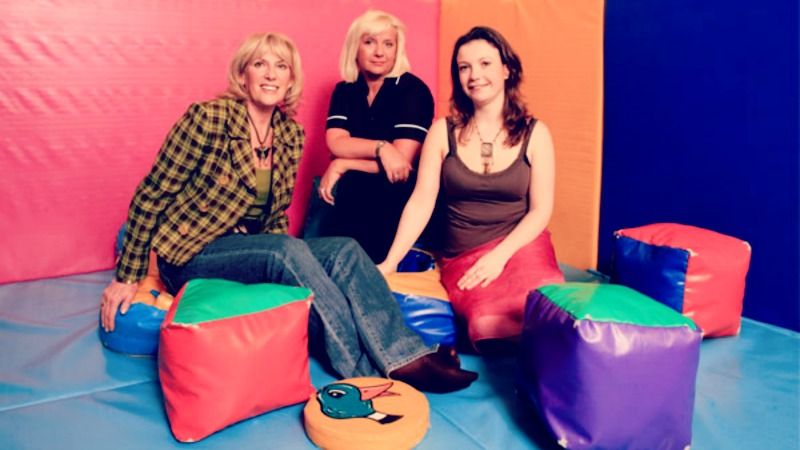 (L to R): Mentors Dreena Hamilton (Dr. Spock), Claire Verity (Truby King), and Claire Scott (Continuum Concept)
Available on YouTube
, I started watching it for the same reason that any mother would - for a kind of validation, something or someone telling you that you're doing it right. I watched with horror as Claire Verity, mentor under the Truby King method insisted that babies be fed every four hours; placed in their cot in their room and not handled until their next feed; and kept outdoors
ostensibly for fresh air
for three hours everyday. These were babies less than a week old! Their parents were allowed one cuddle for 10 minutes each day and that was it.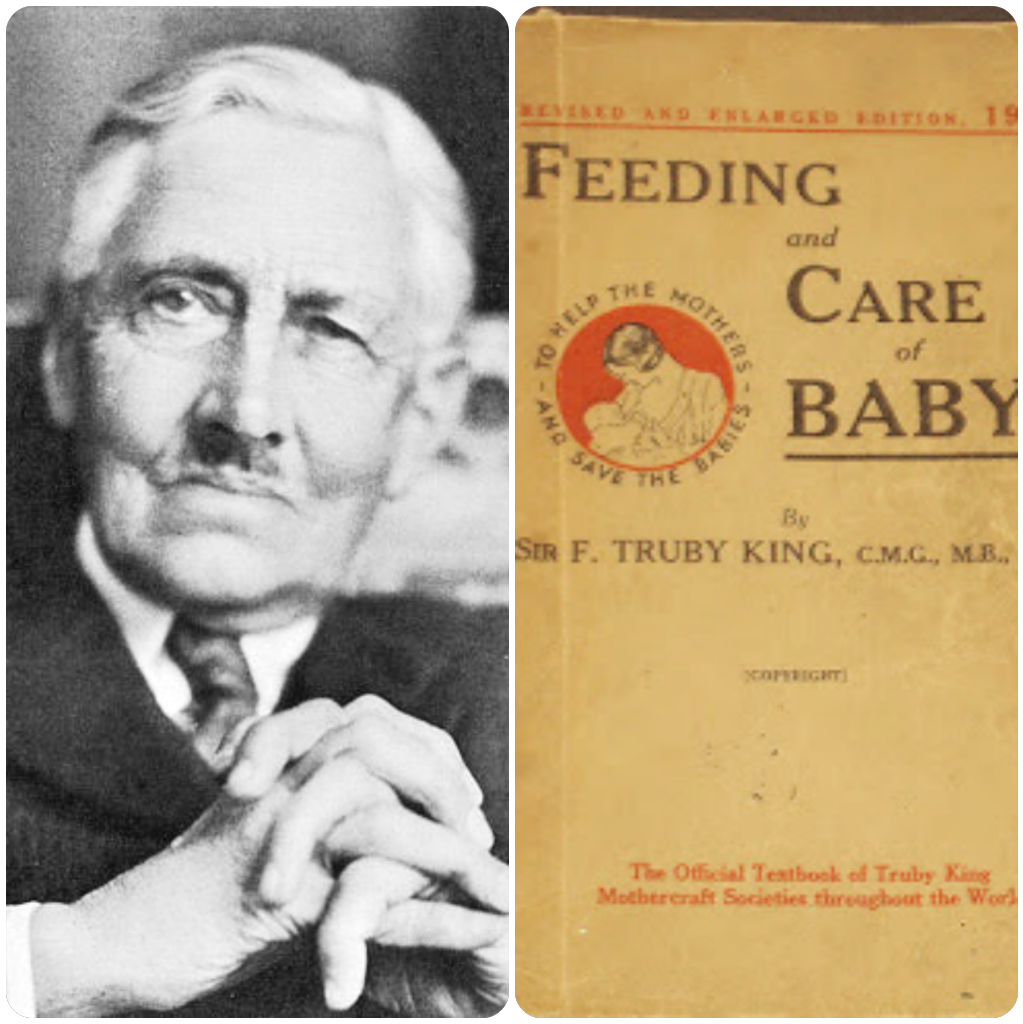 Sir Truby King and his now controversial book.
Incidentally, the guy was also a big fan of eugenics.
At the other end of the spectrum of childcare is the Continuum Concept. Based on a book by Jean Liedloff, the 'continuum' is an innate set of expectations that need to be met for human beings to achieve optimal physical, mental, and emotional development and adaptability
Thanks Wikipedia!
. Under this method, parents are expected to meet an infants need to experience constant carrying or physical contact with other people for at least six months postpartum. Other requirements include, co-sleeping in parents' bed until leaving of their own volition; breastfeeding on demand by the baby; and respecting the communicative value of a baby's cry.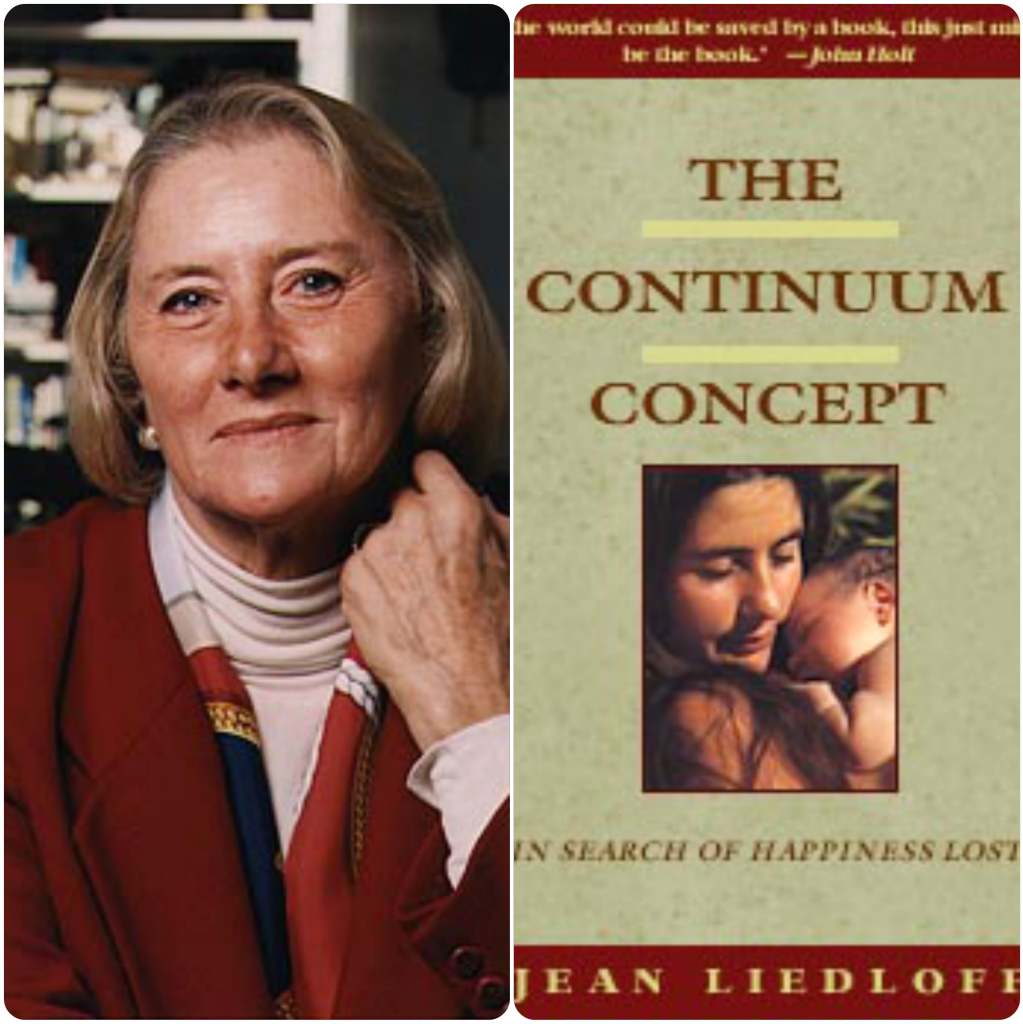 Anthropologist Jean Liedloff and her book.
The middle road is gleaned from Dr. Benjamin Spock's book
The Common Sense Book of Baby and Child Care,
which
is the second bestselling book of the last century
the Bible is the first
. Investigating the regimented routine being followed at the time, Dr. Spock felt that babies ought to be treated as individuals and their needs be met as such. While I haven't read the book, the documentary portrays Dr. Spock's method to be wishy-washy. It wouldn't be the second bestselling book of the last century if parents didn't find it to be immensely useful.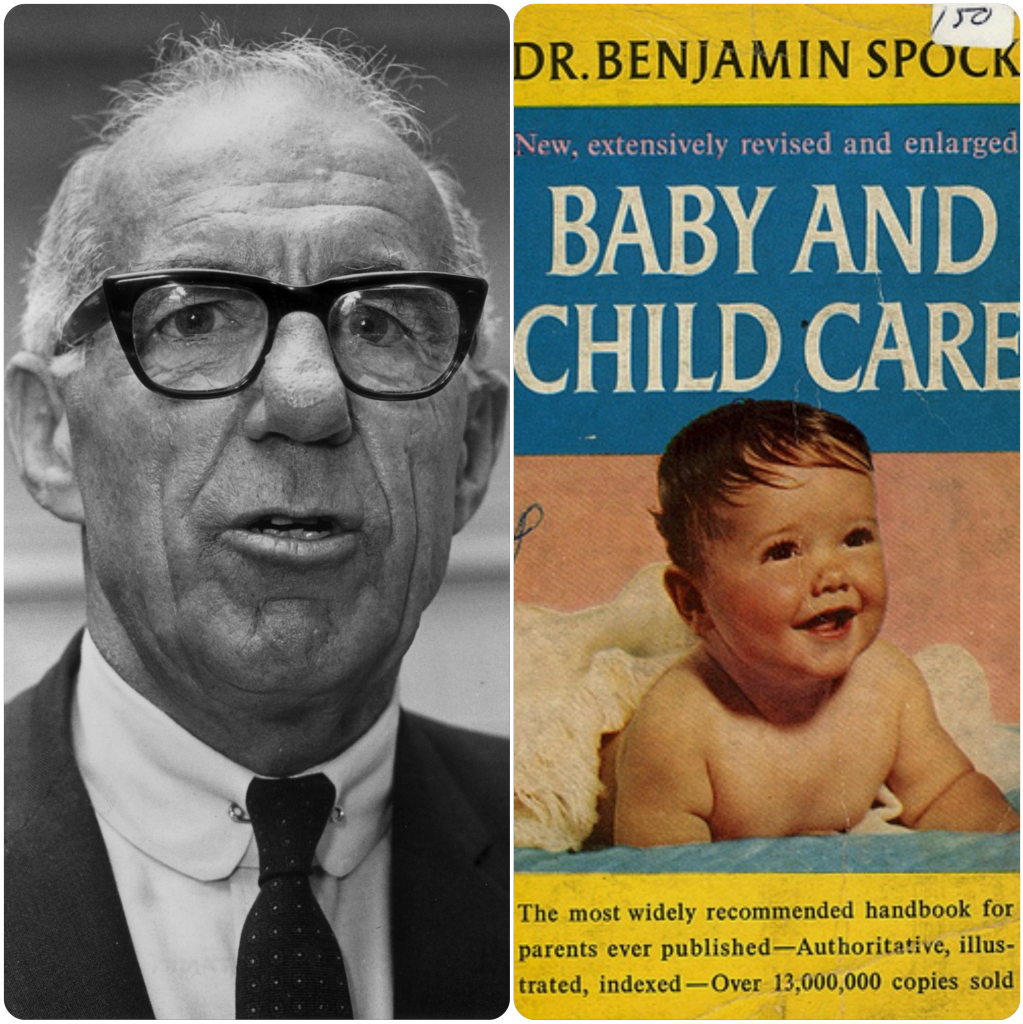 Dr. Benjamin Spock and his wildly successful book
As pre-parents, we have a vague idea of what it is like to have a child. Some of us expect sleepless nights and near-constant nursing; others expect their lives to go back to normal by the time baby is three-months old; while the rest of us have no expectations, preferring to go with the flow.
In the documentary, the Truby King babies were fed formula milk and were sleeping from 7 PM to 7 AM by the time they were 8-weeks old. But ignoring her baby's cries also desensitised one mother, causing her to call her newborn 'the kind of child who will take your whole hand if you give her a finger.'
I'll be the first person to agree with anyone who says that babies thrive on routine
this is exactly what the Truby King mentor and controversial child minder Claire Verity says in the documentary
. However, I also agree with the Continuum Concept of allowing baby to show you what that routine is rather than imposing one on her. To take this idea a step further, you have to trust your instincts when following baby's cue, which is what Dr. Spock asks parents to do.
In the end, as parents, we would be doing our babies a disservice by slavishly following one method without even considering alternatives. Each baby has different needs that ought to be met appropriately. And it's our job as new parents to discern what these needs are and educate ourselves on how best to meet them. All in all, the documentary gave me a great peek into the lives of parents who chose alternate methods of raising their babies. At the end of three months, each method produced a happy, satisfied baby
the documentary follows each parents' journey for baby's first three months
.
"We do all our own parenting,"